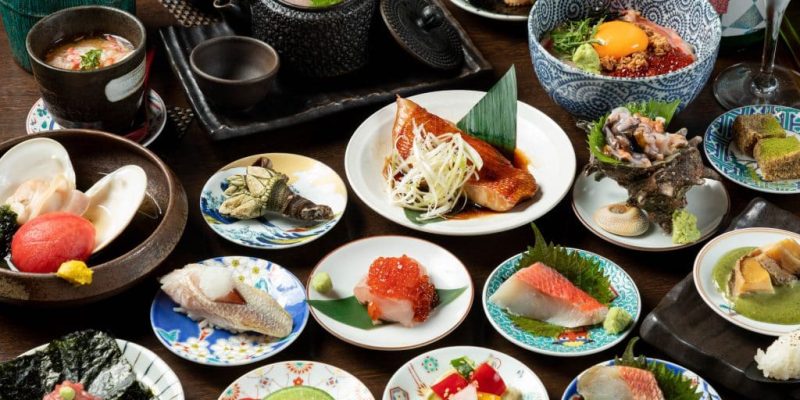 hello.
Ginza Hanatare specializes in ground red sea bream.
We offer a higher-grade course that is perfect for entertaining, and that not only tastes good, but also looks attractive.


◆A higher-grade course that only adults can enjoy at an izakaya◆
~Enjoy all-you-can-drink~

This time, we would like to introduce the [Kiwami Course], which is a step above the rest, and is perfect for those who want to fully enjoy Japanese cuisine and those who want to offer hospitality.
The highlight of this course is the large number of 20 items in total.
Specialties unique to our restaurant that use our proud local alfonsino "Salmon roe wrapped in scallops," "Steamed alfonso alfonsino in iron kettle,"
We offer Japanese cuisine such as "boiled abalone", "seasonal steamed tea bowl", and "ankimo sukiyaki style" served in small portions on small plates and bowls!
Not only is it fun to taste various delicacies at once, but there are also many people who are excited to see the many dishes lined up.
This is a limited course that we are proud of because we are an izakaya that adults can enjoy, and we are proud of our seafood.
In addition to the standard drinks, the all-you-can-drink includes 20 types of sake, so please enjoy this as well.
If you plan to eat at the restaurant as the main course, we recommend the course with soft drinks without all-you-can-drink.
By all means, please enjoy our shop.

Kiwami Course (with all-you-can-drink for 2 hours) ≪20 dishes in total≫ 10,000 yen (tax included)
Kiwami course (with soft drinks) <<20 items in total>> 8,000 yen (tax included)
~You can order the shabu-shabu of our prized ground bream! ~
The [Kiwame course] introduced this time does not include the famous "Jinme sea bream shabu-shabu",
We also accept orders for single items.
We have half and one fish available, so please share it with your friends and experience the unique taste of shabu-shabu.
———————————
1-minute walk from Subway Ginza Station Exit C2 / 5-minute walk from JR Yurakucho Station Ginza Exit [Ginza Hanatare].
Our shop can also be used like a restaurant where you can casually stop by from a special meal seat,
It is an izakaya where adults gather.
Please use our shop when you come to Ginza.
We are looking forward to your reservation.
*Course content may vary depending on the catch on the day.
※The image is an image.