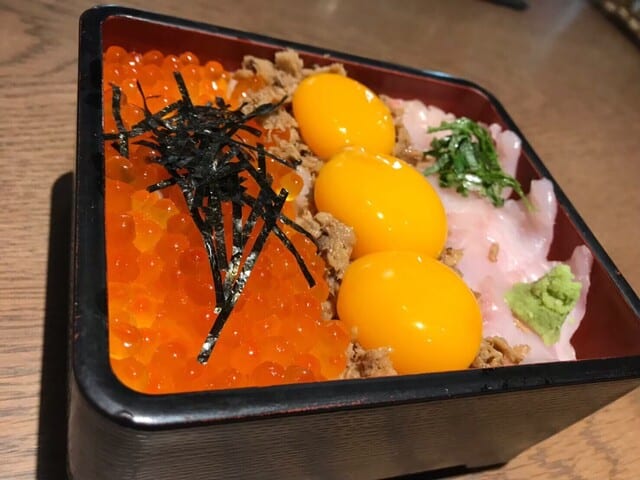 hello.
Ground bream specialty Ginza HANATARE.
Our restaurant can also be used as a restaurant to enjoy a slightly luxurious lunch.
◆If you are looking for a restaurant with delicious lunch, leave it to us! ◆
~Hospitality with delicious seafood~
If you are looking for a restaurant where you can enjoy lunch in Ginza, please use our restaurant.
We have prepared two types of lunch menus that are also pleasing to the eye, using carefully selected Choshi-produced branded Kinmedai.
It's a gem that you'll want to take pictures of.
■ Ground sea bream sashimi and simmered minced meat are arranged in a bowl and egg yolk is placed in the center [ground rice: 2,860 yen (tax included)]
■ Sashimi and simmered soboro, an egg yolk in the center, and lots of salmon roe on top [Jkin mei salmon roe rice 3,300 JPY (incl. tax)]
You can enjoy 3 flavors in 3 different ways.
①Enjoy the sesame sauce on top of sashimi.
②Boiled soboro and egg yolk are mixed and tasted as "mixed rice".
③ Enjoy "Ochazuke" by pouring soup stock on a separate plate.
By all means, please enjoy the taste of the ground bream itself with sashimi, starting with ①.
If you continue to eat ② and ③, you can enjoy a different taste.
This is a perfect dish for those who want to eat delicious fish dishes for lunch, or for those who want to have a little extravagant lunch.
Please take your time and enjoy the ever-changing deliciousness of the sea bream.
This menu is also available at dinner time.
*At lunchtime, both meals come with a mini salad, 2 kinds of side dishes, and miso soup.
*For an additional 400 yen (tax included), you can add boiled or fried chicken.
~Dinner time at an izakaya where adults can enjoy…~
Our shop, which can be used as a restaurant during lunchtime,
At night, it can be used as a calm izakaya where adults can enjoy themselves.
When you visit us, we would like you to try our specialty "Golden sea bream shabu-shabu",
We mainly have a Japanese menu using seafood.
We also have a wide selection of carefully selected Japanese sake, so please enjoy it together.
———————————-
1-minute walk from Subway Ginza Station Exit C2 / 5-minute walk from JR Yurakucho Station Ginza Exit [Ginza Hanatare].
Our shop where you can spend time in a calm Japanese modern space,
This is a higher-grade izakaya that adults can enjoy.
Please use it in various scenes.
※The image is an image.