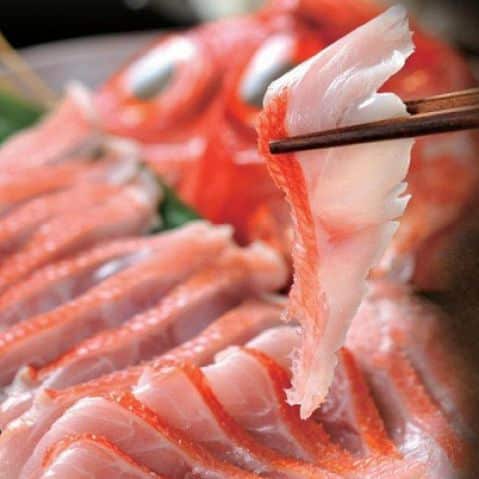 Hello.
Ginza Hanatare specializes in ground red sea bream.
At our restaurant where you can use both food and alcohol in various scenes,
Would you like to have a good time?
◆You can't miss the shabu-shabu of ground bream! ◆
~ We also have a lot of gems of ground sea bream ~
Would you like to enjoy a meal at a restaurant today, or a drink at an izakaya?
There are days when I get lost.
Our shop is an adult izakaya where both of them come true!
A dish that can be enjoyed as the main meal, a gem that is perfect for sake,
Both are exquisite dishes using brand-name kinme sea bream caught off the coast of Choshi, Chiba!
One of our specialty dishes that you can't miss either as a meal or as a side dish with sake."Jinme sea bream shabu-shabu".
"Shabu-shabu of Jikinmedai" is a luxuriously thickly sliced ​​kinmedai that is lightly shabu-shabu dipped in soup stock.
You can enjoy the delicious flavor and fat that is different from sashimi.
Please try it when you come to the store.
In addition to this, it is perfect for those who want to eat a lot, [Jinme sea bream and salmon roe rice],
For those who want to thoroughly enjoy it with sake, there are "Jimme bream simmered" and "Jimme bream, live shellfish and 6 types of local fish", etc.
We have a wide variety of items available, so please enjoy the various flavors of ground bream.
Of course, we also have a seafood menu other than ground sea bream.
~ Extensive drink menu ~
We also have a wide variety of drink menus, including Japanese sake.
Among them, the drink menu that I would like you to pay attention to this time is"Nama Matcha Wari".
Founded in the 30th year of Meiji Kawamotoya Chaho supervised by special matcha powder, matcha is carefully prepared in front of you and poured into a glass.
You can enjoy the refreshing scent and taste of freshly brewed matcha "Nama Matcha Wari".
It's a cup that you can't taste anywhere else, so please try it too.
‥――‥*‥――‥*‥――‥*‥――‥*‥
2-minute walk from Subway Ginza Station Exit C1 / 5-minute walk from JR Yurakucho Station Ginza Exit [Ginza Hanatare].
The interior of the store, which has a calm atmosphere with gentle lighting, is a space where adults can enjoy themselves.
Please visit our store when you come to Ginza.
We are looking forward to your reservation.
※The image is an image.